Date: Nov 11, 2022
By Alejandro Melgar and Shilpa Downton and Jillian Code – CityNews
https://calgary.citynews.ca/video/iframe/593482582001/SyxzIeNcgb/6315641287112
Thousands gathered at Calgary's Field of Crosses along Memorial Drive and at The Military Museums Friday morning to observe Remembrance Day.
Calgarians paid tribute to fallen soldiers and listened to speeches about past wars and current wars, honouring many of the people in the crowd.
"We come from this lengthy line of military people. My grandfather, my great uncles, and all sorts of different relatives," said Cpl Heather Vanderveer, a Canadian veteran.
"And it's just that sense of pride that you can carry on your duty to your country."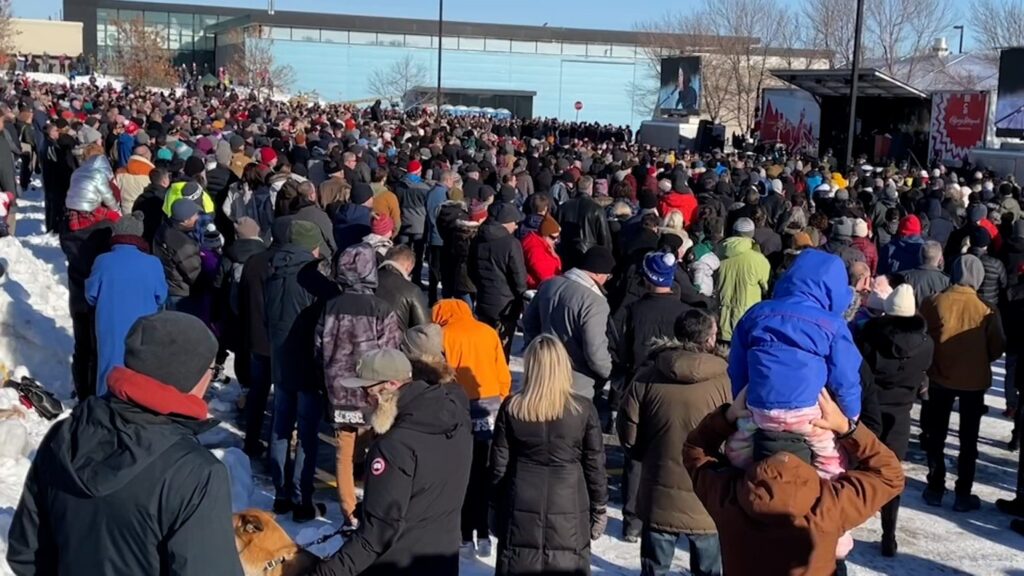 Founder of the Field of Crosses, Murray McCann read "In Flanders Fields," the famous and powerful poem written by Canadian medic Dr. John McCrae in Belgium in May, 1915. He wrote the poem after a friend of his died in battle.
Calgary's Cantare Children sang "I Vow to Thee My Country," which was written by Sir Cecil Springs Rice and set to music by Gustav Holst in 1921.
Rupert Brooke wrote five sonnets in the book of poetry titled 1914 just after the First World War, and Celine Omar from the choir read sonnet four titled "The Dead."
Fire Chief Chris Dongworth with the Calgary Fire Department was one of many taking part in Friday's ceremony at the Field of Crosses.
He led the crowd in the "Act of Remembrance," and was followed by the "Commitment to Remember" by the children's choir.
The day's events were also reminders that veterans often carry various traumas, including wounds that cannot be seen with our eyes.
"We just all have these preconceived notions of a veteran, and I'm hoping that maybe we can change that notion," Vanderveer added.
"Everybody goes through the old family photos and they see grandpa, and great-uncles with their uniforms, and they, of course, served in much harsher conditions."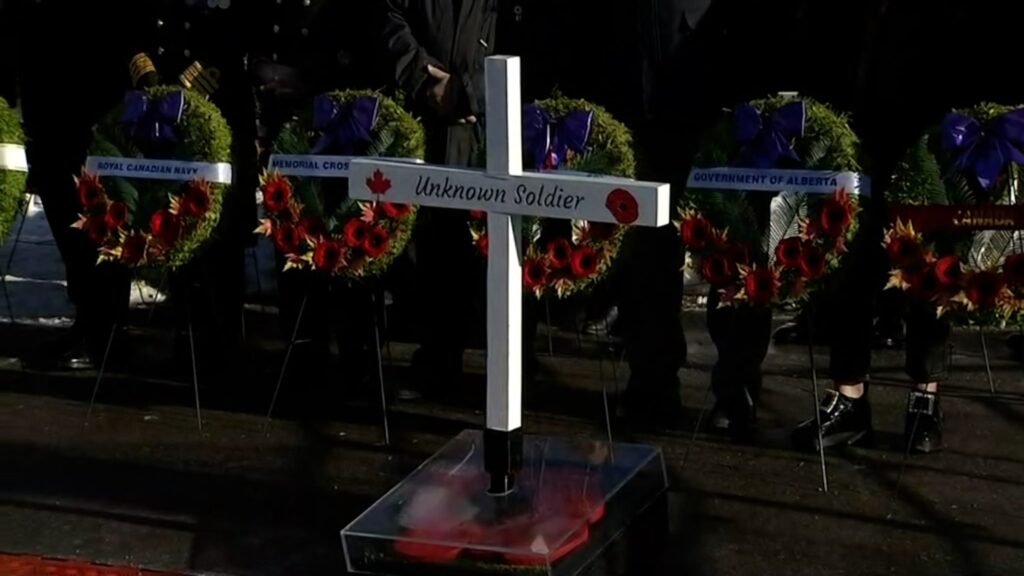 This year marked the 105th anniversary of The Battle of Vimy Ridge in 1917, which saw 10,000 Canadian soldiers fall in battle.
Prior to the battle, there were four divisions of the Canadian Force that united into a Canadian Command, which stemmed from regiments across the country that included The King's Own Calgary Regiment.
The King's Own Regiment started as the 103rd Regiment, otherwise known as the Calgary Rifles, and was formed in Calgary on April 1, 1910.
In 1924, the regiment was renamed "The Calgary Regiment."
Before the Second World War, the regiment became an armoured unit called "The Calgary Regiment (Tanks)." Its name changed a few times, but fought with the 1st Canadian Army Tank Brigade that went to Sicily in July, 1943, and then back to Italy in September of the next year. The regiment fought in the Dieppe Raid and "helped liberate Sicily, Italy, and the Netherlands."
The regiment received the title "The King's Own" by King George VI in 1946, and was renamed into what is now the King's Own Calgary Regiment in 1948 for its achievements.