Date: Oct 22, 2022
Brodie Thomas Calgary Sun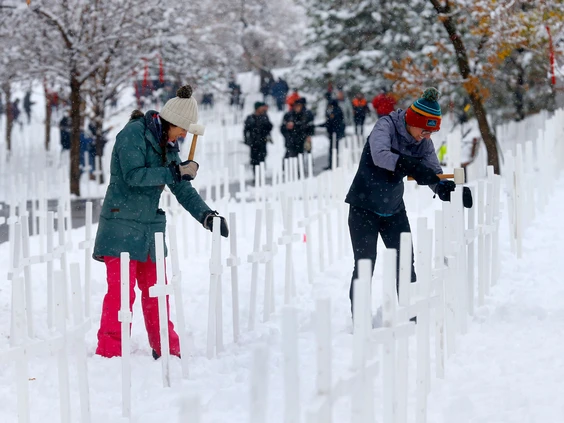 More than 100 volunteers braved the fresh snow on Saturday to begin setting up 3,620 crosses for Calgary's annual Field of Crosses Memorial.
The annual display along Memorial Drive was started in 2009 by local businessman and community-builder Murray McCann, and has grown into a registered charity with ongoing work carried out by community volunteers.
Veteran John Sereda was at the site on Saturday morning helping to set up. He is with 3rd CAV, a veterans motorcycle group which aims to support veterans and the community.
Sereda said it's his tenth year helping set up the Field of Crosses.
He said the snow this year made things slightly more challenging, but it wasn't too bad because bases for the crosses had been installed in the ground last week before it froze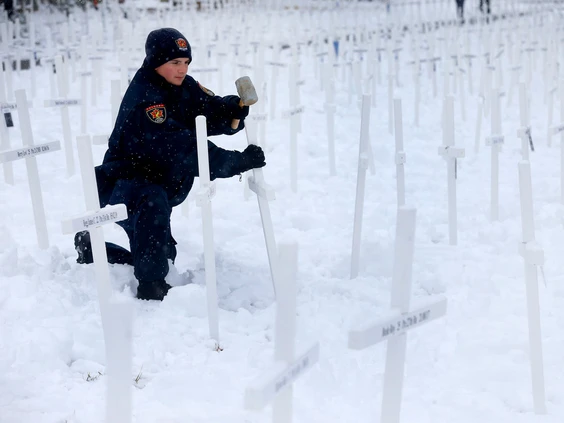 Each cross represents a southern Alberta soldier who paid the ultimate price for their country, and was buried overseas.
"So every year we get an opportunity to bring them home for the couple of weeks that we have the crosses up and kind of let people know what the sacrifices were during all the wars that we've been involved in," said Sereda.
He said each cross will have a flag, either Canadian or American, and a poppy. Some crosses also have details about the life and service of the soldier it represents. Getting all that information up correctly requires a lot of work, according to Sereda.
The memorial brings together people of all generations. Youth with the Calgary Police Cadets were volunteering their time to help set up on Saturday.
Vincent Bui, a member of the cadets, said he wanted to help because it's important to remember those who sacrificed their lives for Canada.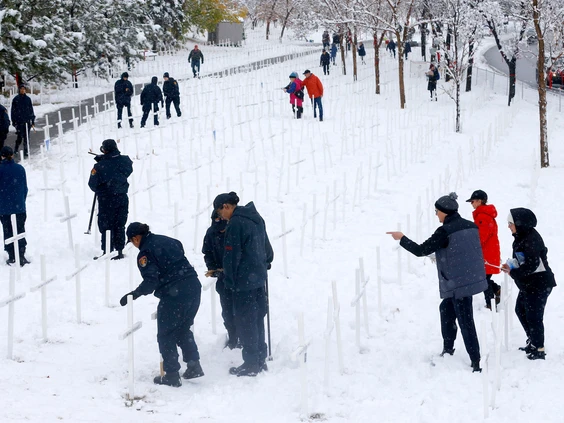 "We're treating the crosses as if they were those people, and it's an honour to volunteer today and give respect to (them)."
Bui said he was struck by how young many of the soldiers were, including many teenagers not much older than himself.
Divya Jhamb, also a police cadet, said she was moved by the dedication soldiers had as they served.
"There's obviously that little bit of, I want to say, grief or sadness," she said. "But there's also hope and just seeing everyone come together, it's just sort of like this light or hope."
The Field of Crosses is now open to the public. Sunrise and sunset services will begin on Nov. 1 and will run every day up to Nov. 10. A ceremony will be held on Remembrance Day as well.
brthomas@postmedia.com
Twitter: @brodie_thomas