Field Of Crosses Time-laps 2016
-by Wendell Tenove
Enjoy this time lapse video of our super volunteers setting up the crosses October 15, 2016.
The Crosses on Memorial Drive
Eleven Days of Remembrance
The Philanthropy Channel Original Short: Field Of Crosses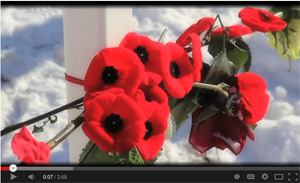 Article Source:
The Philanthropy Channel
Publication Date:
November 14, 2013
There is a park reserved along Calgary's Memorial Drive for 3,000 white crosses which are displayed each year on November 1st and removed November 12th. The date coincides with the Calgary Poppy Fund's annual fundraising campaign. Each cross is inscribed with the name, rank, regiment, date of death and age at death of a Southern Alberta soldier killed in action. It is estimated that more than 3,000 Southern Alberta soldiers have been killed in action. Veterans Affairs Canada keeps records of those who died, but not the hometown of the casualty; we welcome volunteers and input from friends and relatives who have lost a loved one from Southern Alberta who was killed in action and is not included in our Field of Crosses. Our wish is that no Southern Alberta soldier who paid the ultimate price for our freedom is ever forgotten.