CALGARY — Students from Delta West Academy placed a silk flower on each of the 3,200 crosses at the "Field of Crosses" on Memorial Drive Thursday.
The annual act helps the students appreciate the enormity of the sacrifices southern Alberta soldiers have made.
Delta West Academy is the only school with that honour and privilege.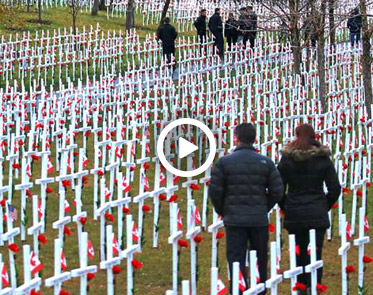 "They fought for us, they fought for other people around the world, and putting (the flowers) on their crosses, it feels good," said Zaid Umar, a Grade 7 student. "And it feels like pride to me — I feel proud that we're doing this."
The flower initiative began a decade ago, when the school's co-founder saw the crosses going up for the first time.
Field of Crosses blankets Memorial Drive to honour Alberta's fallen soldiers
Denise Dutchuk-Smith stopped to ask an organizer how she could help.
"He said, 'they seem empty, the crosses — maybe a flower in remembrance?'" Dutchuk-Smith recalled.
She agreed to put flowers out with her students, every year, and the school has kept that promise ever since.
Arjun Thaker, who is graduating this year, said that over the years, he has gained a greater appreciation of the sacrifice Canadian soldiers have made.
"In Grade 4, it didn't really impact me the same," Thaker said. "I didn't realize that each of these represented someone who has passed away for our country."
"I've realized that through learning about world wars and just learning about the military in general, I definitely appreciate it more," he added.
The experience also resonated strongly for Niahra Contee.
Her father is is a U.S. Marine, stationed a long way from home.
"It's really important to me and it also makes me just miss him when I see the American flags with the Canadian flags," said Contee, a Grade 9 student.
All of the students said they were struck by how young most of the soldiers were when they died.
"It warms my heart that they would sacrifice their life when they're so young and they haven't lived that much," said Kyra Sherman, who is also in Grade 9.
This year, the students used silk flowers to better withstand Calgary's weather.
Next week, the Delta West students will take part in a sunshine ceremony at the Field of Crosses cenotaph, and share breakfast with veterans at the Kensington Legion.
Sunshine and sunset flag ceremonies at the Field of Crosses begin on Nov. 1.