On a calm, fall morning along the Bow River, Royal Canadian Air Force veteran Dan McLean looked on as the annual commemoration of his fallen comrades began.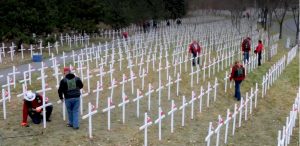 McLean spent Saturday morning looking over the Field of Crosses, which from Nov. 1 until Remembrance Day will see a park along Memorial Drive between Centre Street and 3 Ave. N.W. dotted with white crosses as a way of remembering members of the Canadian Forces from southern Alberta who died in battle.
"Walking through these crosses, you see the sacrifices Canadian citizens have made, spanning all the way back to the Boer War and all the way up to the present day," McLean said.
"This is a way to
let people know that the sacrifice has been ongoing, and it's a chance for people to come out and be thankful in their hearts."
Now in its ninth year, the Field of Crosses will include over 3,400 crosses, 300 more than last year, and is funded fully by the McCann Family Foundation. Each cross will show the name, military decoration, age at death, regiment, rank and date of death.
One of the crosses belongs to Diane Dallaire's fallen son, Kevin Dallaire, who was killed in Afghanistan on Aug. 3, 2006, at just 22 years old.
Dallaire is one of the many volunteers who makes this 11-day memorial project possible, and she said volunteering is her way of saying thank you to the organizers of the Field of Crosses for memorializing her son, and thousands of others year after year.
Over 300 volunteers came out to set up The Field of Crosses along Memorial Drive in Calgary on Saturday Oct. 28.
On each day, there will be a sunrise ceremony and a sunset ceremony, which include tributes to families that have lost a loved one to battle as well as flag-raising and flag-lowering.
Dallaire said she plans to regularly attend the sunset ceremony as she can almost feel the presence of the fallen warriors.
"I like coming in
the evenings because of the shadows," said Dallaire. "To me, it feels like the shadow is the soldier's way of saying they may be gone, but their spirit's still here."
Field of Crosses management committee president David Howard said the support they continue to receive is overwhelming, and is starting to show how many people understand why they possess the freedoms they do.
Howard said the number of crosses continues to grow year by year as more research is done.
"The Field of Crosses has become an iconic visual statement of the loss of war," he said. "It chokes me up. I've been involved with this for 10 years and it still chokes me up every year walking through it."