The Field of Crosses along Memorial Drive honours soldiers from southern Alberta who lost their lives fighting for Canada and on Thursday a number of students from Sunnyside Elementary attended the sunrise ceremony to learn more about the initiative.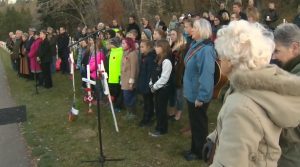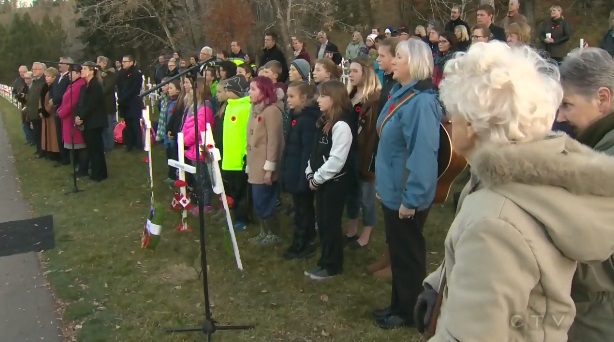 Click to watch the video.
Over 3000 white crosses have been placed at the site and the Grade 6 class joined first responders at the early morning ceremony for the singing of the national anthem and a moment of silence.
The students attend the ceremony annually but this year instead of going back to class, they headed over to the Kensington Legion for breakfast with some of Canada's veterans.
"It means a lot because I want to honour them because without all those soldiers we probably wouldn't be here right now," said Izzy Iapaolo, 11.
"They did it so we don't have to," said Koko Ledrew Guthrie, 11.
Robert Greene spent his military career inside a tank in Europe during the Second World War and he shared many of his stories with the youngsters.
"I was going to dig my slit trench back by the engine compartment of the tank and my driver Jimmy Spencer from Saskatchewan, he said don't dig it there, dig it over here, which I did, two infantry men dug their trench right where I was going to dig mine, and in the night a mortar came in and killed both of them, so I dodged that bullet again," said Greene.
Dan Mclean tracked Russian nuclear submarines from a patrol aircraft during the Cold War and talked to the students about his career in the military.
"As Canadian citizens I was letting them know that world-wide we have a reputation of being kind, open, understanding, seeing both sides of the question and we're also well remembered as soldiers in the greater countries," said Mclean.
Field of Crosses co-founder, Murray McCann was honored at the breakfast with a white hat from the City of Calgary.
McCann came up with the idea after passing through a small town in Georgia where he saw memorial crosses on display commemorating those in the community who were killed in foreign wars.
"They had these crosses along the highway and I must say, at first I thought it was an accident and a bad one, and then when I slowed down, I saw there were names and flags and then it dawned on me. When I saw the number of crosses for such a small town, it overwhelmed me. I pulled over and truly for the first time in my life it was like an epiphany," he said.
He took his idea to longtime friend and Poppy Fund head, George Bittman, and together their dream became a reality.
"I told him, I want to do something like that in Calgary so other people will get this same feeling of appreciation of these veterans," he said. "George liked the idea and he approached The Poppy Fund to see if they would be interested in us doing it at the same time as The Poppy Fund and they said yes."
Bittman was killed in an accident in 2011 but the project lives on and is now in its eighth year.
The McCann Family Foundation funds the project and George McCann says having the students come each year makes it worth it.
"When you go by the site anytime, there'll be a school bus or two, as students get off and the teachers take them through the crosses. And the interesting thing I've noticed, the kids will get off and being kids they'll be fooling around, when they go into those crosses, there's silence and reverence and an awareness, this was the price for that city over there," said McCann.
The Field of Crosses is open to the public until November 11th.