It was a big task for staff and students from Delta West Academy: out in the chilly air Monday morning adorning 3,400 crosses with donated poppies at Calgary's Field of Crosses on Memorial Drive.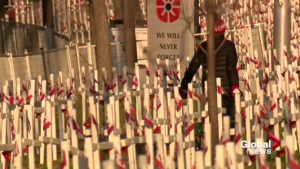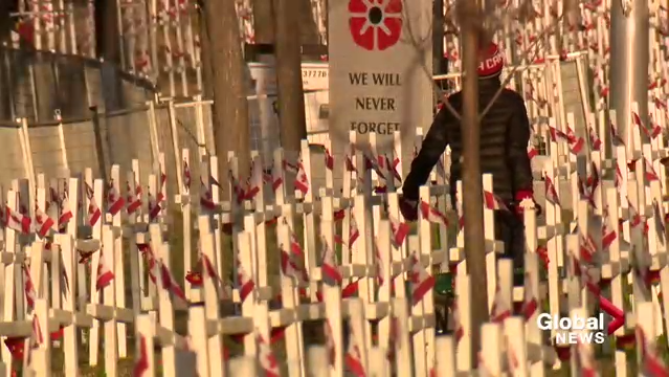 Click to watch video.
Students from kindergarten to high school grades at the school participated in the project.
Some of the students are barely bigger than the white crosses themselves, while others realized they're close in age to some of the soldiers that were killed.
"I can't imagine my brothers — they are only 18 and 22 — and to think that they would be going to war…" Grade 10 student Lexi Kilgour said. "It's just so weird, it's just crazy and I can't imagine a world like that today."
Students from Delta West Academy have been placing poppies on the crosses since the Field of Crosses was first set up in 2009.
Teachers say the annual project generates a lot of class discussion about everything from lessons from the past to ways to promote peace in the future.
"It definitely brings about some emotion through the school community," said Amanda Dennis, director of admissions at the school. "And it provides more of a connection to a bigger project, a greater sense of commitment to the city."
"It leads to great topics of debate and discussion, especially in high school social studies classes. They are able to have a greater world view and scope on international projects," Dennis said.
Each cross bears the name, age at death, rank, regiment and date of death of a southern Alberta solider who died in war or in peacekeeping missions. The hope is that each student walks away a more respectful and compassionate citizen.
"I'm just very thankful," Grade 8 student Danait Birhane said. "There is no way I can say I'm thankful other than to put flowers on. Just imagine risking your life for people. I can never imagine myself doing that."
Members of the public are welcome to visit the Field of Crosses site.
Students laying the poppies hope people driving by will see them and take a moment to give thanks.
"I just hope that it spreads remembrance and that's the biggest thing about this… we remember everything that they have done for us and we keep everything in our hearts. It's the least we can do just by showing a little gratitude," Kilgour said.