For the first time this year, people gathered at the Field of Crosses on Memorial Drive in Calgary on Wednesday to pay their respects to Southern Alberta's fallen soldiers.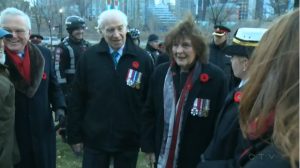 Click to watch the video.
More than 3,400 white crosses, each bearing the name of a man or woman who gave their life in service, have been set up in the park that spans nearly six acres. Organizers say they've added about 100 names this year as more information was found.
Wednesday's event was accompanied by a rendition of the national anthem by a choir from Masters Academy and a reading by Lois Mitchell, Alberta's Lieutenant-Governor.
Each morning leading up to Remembrance Day, the Canadian flag will be raised along with the flags of the Army, Navy and Air Force.
The Field of Crosses, started by Murray McCann as a small memorial, is now in its ninth year. He says he started it after seeing a similar installation in the United States.
"I wondered how many from Southern Alberta gave up their lives so that we could live this great life we have. That's when I came back, talked to George, and said I'd like to try it."
He says he's thankful for the sacrifice made by every Canadian soldier.
A sunset ceremony will also be taking place every day from Wednesday until November 11, with the first taking place at 6:09 p.m.