Calgarians are invited to attend a series of sunrise and sunset ceremonies at the Field of Crosses Memorial Project starting on Wednesday.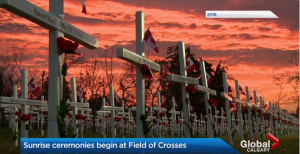 Click to watch video.
The annual display along Memorial Drive includes over 3,400 white crosses, each representing a southern Alberta soldier killed in action.
The sunrise and sunset ceremonies run for 11 days from Nov. 1 up to and including Remembrance Day.
"It gives families an opportunity to come out and, sadly, if they've lost someone through a war or peacekeeping mission this is a chance for closure," David Howard with the Field of Crosses Committee said.
"It's a touching experience."
The Field of Crosses was first conceived by Calgary businessman Murray McCann after seeing a similar display in Menlo, Ga. McCann took the idea to his friend (and former head of the Calgary Poppy Fund) George Bittman and the project was born.
Now, the crosses serve as a visual reminder of those who gave the ultimate sacrifice for our country.
The Field of Crosses is located on Memorial Drive between 3 Street N.W. and Centre Street.
| | | |
| --- | --- | --- |
| DATE01/11/2018 | SUNRISE8:29 AM | SUNSET6:09 PM |
| 02/11/2017 | 8:31 AM | 6:07 PM |
| 03/11/2017 | 8:32 AM | 6:06 PM |
| 04/11/2017 | 8:34 AM | 6:04 PM |
| 05/11/2017 | 7:36 AM | 5:02 PM |
| 06/11/2017 | 7:38 AM | 5:01 PM |
| 07/11/2017 | 7:39 AM | 4:59 PM |
| 08/11/2017 | 7:41 AM | 4:58 PM |
| 09/11/2017 | 7:43 AM | 4:56 PM |
| 10/11/2017 | 7:45 AM | 4:54 PM |
| 11/11/2017 | 7:46 AM | 4:53 PM |