source: GlobalNews.ca
date: November 1, 2021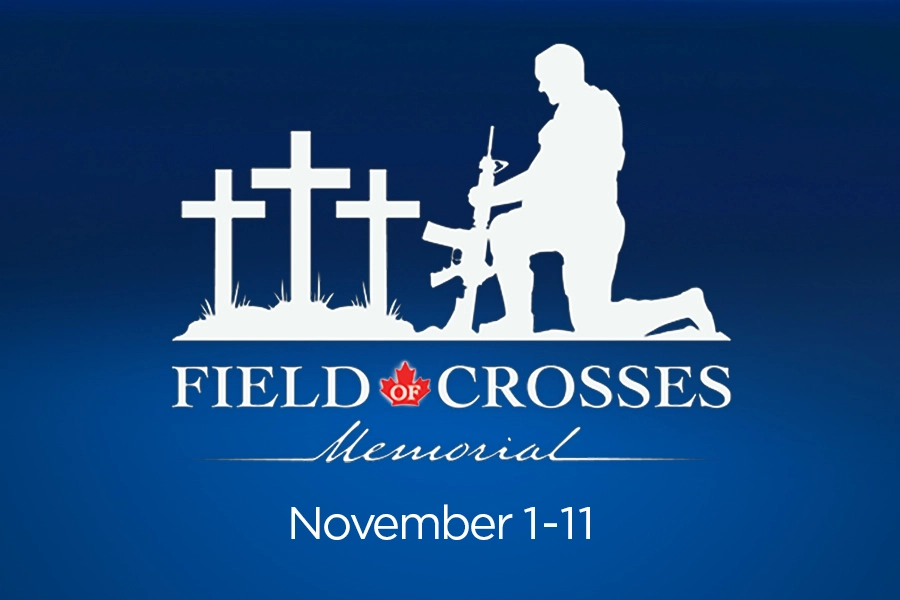 The mission and the commitment of the Field of Crosses Memorial organization is to assure that present and future generations always remember and never forget the thousands of men and women from Southern Alberta and across Canada who gave their tomorrows for our today.
Ways to Participate:
Walk among the crosses all day and night through the 5-acre memorial that's lit 24/7.
Sunrise and Sunset Ceremonies are held each day from November 1 until November 10. CLICK here for the full schedule

While the public is welcome to wander unrestricted amongst the crosses between November 1 – Nov 11, in order to maintain social distancing around the Cenotaph area during Sunrise and Sunset Ceremonies, access will be restricted to invited attendees.
All visitors to the park are asked to observe Safe Social distance guidelines.

Night of Lights – On November 10th candles are placed in front of each cross and will burn from Sunset until Sunrise the next day.

In preparation for the Night of Lights, only volunteers will be allowed on site. The park will be closed to all except the volunteers from 9 AM until approximately 4 PM. Only pre-designated volunteers will be allowed on-site to help with the setup of the candles.

A Remembrance Day Ceremony is held at the field on November 11.

There will be no Sunrise or Sunset Ceremonies on Remembrance Day.
The park will remain closed to the public from 7 AM to 2 PM on November 11.
At 2 PM the park will open to the public.
The Remembrance Day Ceremony will be a virtual event broadcast live from the Field of Crosses by Global Calgary. The virtual event will also be live-streamed. Only those taking part in the ceremony will be allowed in the park during the live ceremony.
On November 11 security will be on-site to ensure only participants in the ceremony are allowed in the park.
Alberta Health Services request that crowds do not congregate off-site and that onlookers do not congregate along Memorial Drive opposite the Field of Crosses.
Each morning from November 1 up to November 11, at sunrise, a moving flag-raising ceremony is held and school choirs, military pageantry, buglers, pipers, silver star families and honoured guests pay tribute to our fallen. Each evening at sunset a similar service is held and flags are lowered. Each morning, following the sunrise service, school students, veterans and special guests are hosted to breakfast at a nearby Legion where veterans and police officers sit with students and engage in meaningful conversations. On November 11 a touching Remembrance Day service is held and attended by over 5,000 and televised and streamed to 300,000 more.
Each November 3500 crosses are erected in a park along Memorial Drive, in Calgary, to pay tribute individually to the thousands of Southern Albertans who made the ultimate sacrifice defending our freedom. In addition, a separate part of the park is set aside, with 120 unique crosses, for a special memorial to the 120,000 heroes from across Canada who lost their lives fighting for this great country. All day and night people walk through the 5-acre memorial, which is lit 24/7, reading the crosses and being reminded that our freedom was not free.
The Canadian Army Veterans Ypres 3 CAV, along with hundreds of dedicated volunteers assist in this extensive undertaking, cleaning the crosses, installing the bases, erecting and taking down and storing the crosses.
Article from Global News