When Diane Dallaire walks among hundreds of crosses along Memorial Dr. that include one for her son slain in Afghanistan, she feels an enduring presence.
"Especially when the sun is going down and those crosses give shadows, it's like the soldiers are still there and I can say 'I'm still among you guys,'" says Calgarian Dallaire whose son, Pte. Kevin Dallaire, 22, was killed in a Taliban rocket-propelled grenade attack Aug. 3, 2006.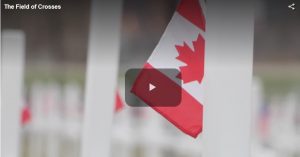 Click to watch the video
It was a day when three other Canadian soldiers were slain in a war that continues to grind on.
"I put a poppy on the crosses of all the soldiers fallen in Afghanistan … it's something I need to do for me, it calms me," said Dallaire.
While Canadians are no longer dying in large numbers in combat, Dallaire and others have about 120 more white markers to view this year at the Field of Crosses memorial just west of Centre St.
Every year, researchers discover more names of soldiers who were from southern Alberta or enlisted here and were then killed in action in conflicts since the First World War.
Other times, relatives of those fallen warriors come forth with names of loved ones never fully forgotten, said Dave Howard, one of the project's planners.
"There could be another 1,000 names," said Howard of the field that now counts 3,089 crosses.
Some of the names are elusive, including those of young Americans who came to southern Alberta to join up in the two world wars before their own country had entered the fray, he said.
"You look at some of these crosses and some of the poor lads were only 18 years old … it's something forgotten or just not known about," said Howard.
The field itself, established by the McCann Family Foundation has not grown alone — so has participation in the sunrise and sunset ceremonies, conducted daily from Nov. 1 through Nov. 11.
Organizations, dignitaries, musicians and others have flocked to lend their presence to the sombre ceremonies, as have growing numbers of the general public to what's become a November tradition, said Howard.
"It's expanded so much, there are so many different components," he said. "It rallies Calgarians."
Also this year, Calgary Catholic school students have prepared biographies of soldiers that will be affixed to 300 of the crosses this year — a project Howard hopes will eventually finish each marker.
Veterans young and old are also taking the field's message into Royal Canadian Legion halls where they're partnered with students for one-on-one discussions.
But the heart of each ceremony among the white reminders of wartime loss are the invited families of the fallen, like Dallaire.
"I'll be here every day," she said.
"I don't have to come and help, but I want to."
Tuesday's sunrise ceremony will commence at 8:30 a.m, with the sunset one starting at 6:09 p.m.
BKaufmann@postmedia.com
on Twitter: @BillKaufmannjrn